A clearer copy of email evidence submitted in the jury bundles on the last part of the prosecution case has been released by the CPS. The first email, from 11th of July 2011 shows an exchange between Rebekah Brooks and James Murdoch, which starts with a discussion of the sales for the last edition on the News of the World.
James Murdoch replies, querying why Brooks would put such things on email. The Daily Telegraph had reported that day on the 'smoking emails' which caused the closure of the News of the World. It was also the day that The Times led on reports that the police wanted to interview Brooks. 
Despite James Murdoch's warnings, Brooks then goes on to detail what she describes as an hour long conversation with Tony Blair, who suggested approaching former Director of Public Prosecutions, Ken MacDonald, to set up something along the lines of a Hutton Report (blurred in this much copied version) which would eventually "clear "her. Blair also allegedly offered to act as an "unofficial adviser" to Brooks and both James and Rupert Murdoch.
It should be stressed, however, that this email is Brooks' record of the conversation, and has no direct communication from Blair himself. The day before the Mail Online had reported that Blair tried to get Gordon Brown to stop Tom Watson using parliamentary privilege to pursue allegations of phone hacking at News International.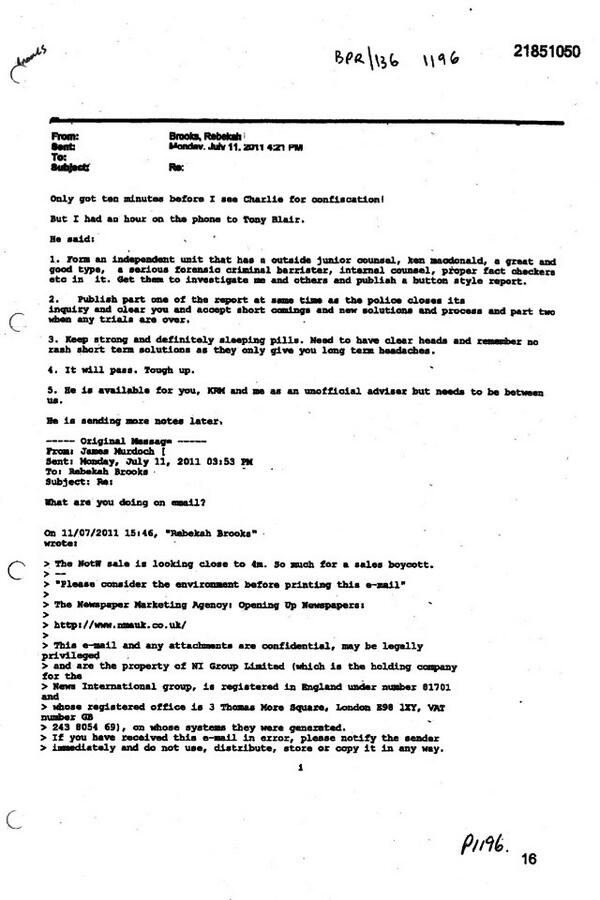 BPR136 1196 – RB JM emails (2)
Transcribed via the BBC
"Only got ten minutes before I see Charlie for confiscation!

But I had an hour on the phone to Tony Blair.

He said:

1. Form an independent unit that has a outside junior council, ken macdonald, a great and good type, a serious forensic criminal barrister, internal counsel, proper fact checkers etc in it. Get them to investigate me and others and publish a hutton style report.

2. Publish part one of the report at same time as the police closes its inquiry and clear you and accept short comings and new solutions and process and part two when any trials are over.

3. Keep strong and definitely sleeping pills. Need to have clear heads and remember no rash short term solutions as they only give you long term headaches.

4. It will pass. Tough up.

5. He is available for you, KRM and me as an unofficial adviser but needs to be between us.

He is sending more notes later."
UPDATE: according to Fiona Hamilton from The Times, Blair's office has confirmed this conversation took place.
Tony Blair has released a statement on #hacking advice to Rebekah Brooks: "This was Mr Blair simply giving informal advice over the phone"

— Fiona Hamilton (@Fhamiltontimes) February 19, 2014
The full statement can be found on John Rentoul's Independent Blog.
The second, earlier email is from 8th of July 2011, the day after the closure of the News of the World was announced. It shows Brooks planning a strategy, apparently to "slam Les and Colin" for the mounting scandal
Les Hinton was Brooks' predecessor as CEO of News International, and Colin Myler the editor of NOTW who succeed Andy Coulson after his resignation in 2007.
It also shows advanced planning for a replacement Sun on Sunday which only finally hit the news stands in February 2012.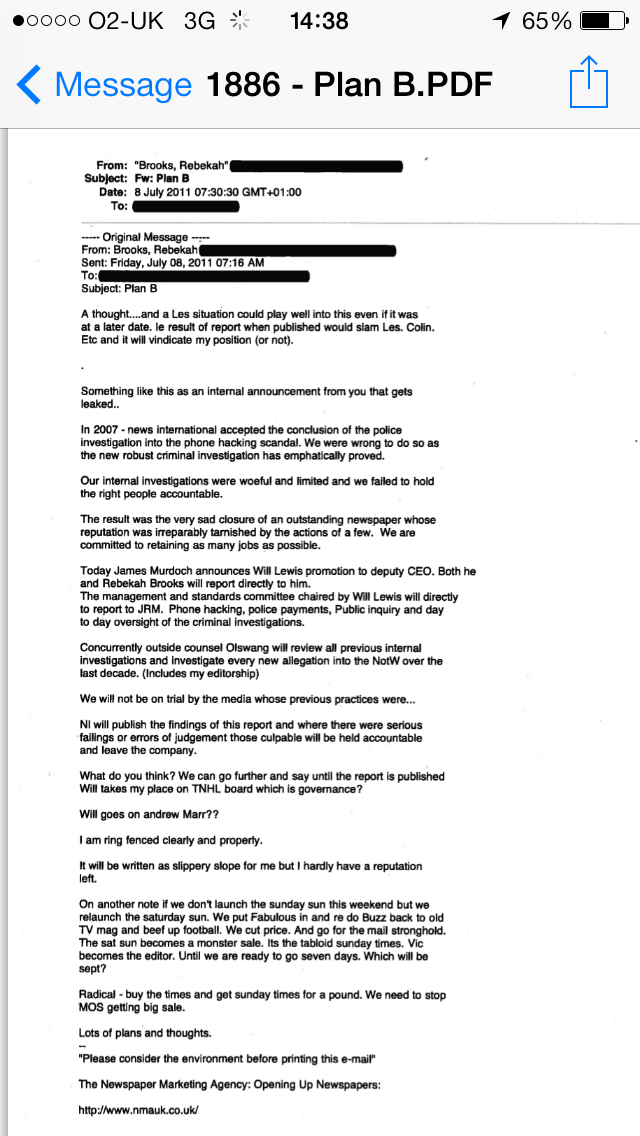 Related articles