As Andy Coulson goes into another week of cross examination, I'm posting here some more the emails which have been cited again and again since the opening of the hacking trial. These are mainly courtesy of the BBC and Robin Brant.
Some of these emails were downloaded by Clive Goodman himself after his arrest on the 8th of August 2006. Others come the Harbottle and Lewis search of the following year, during Goodman's employment claim against NI for unfair dismissal. The remainder are from police searches of the remaining NI email database
First in 2003: Former NOTW Royal Editor, Clive Goodman, emails his editor Andy Coulson about a 'Green Book' which could help with allegations of an affair. He stresses he needs anonymous cash payments because otherwise they could all end up on 'criminal charges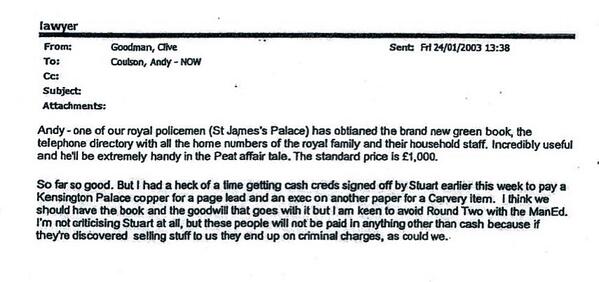 Then, in December 2005, when Mulcaire has been engaged n the Alexander project to hack Royal voicemails, Coulson and Goodman are exchanging emails about "standing up" a story about Prince Harry cheating at Sandhurst exams – details derived from voicemails left on the phone of Royal Aide Jamie Lowther Pinkerton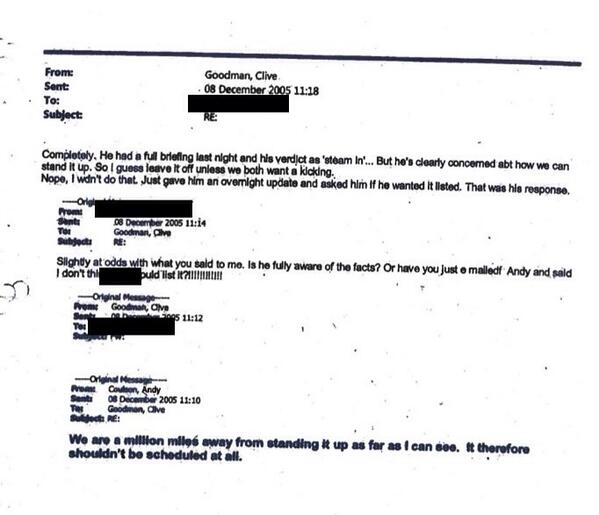 The story was eventually published at the top of Goodman's Blackadder column the following week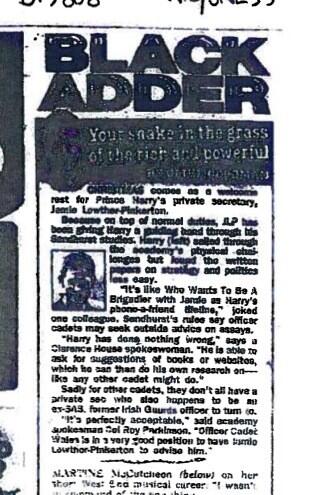 In February 2006 Goodman is defending keeping Mulcaire on a retainer for the stories he brings via the Alexander Project – "Matey's weekly payment"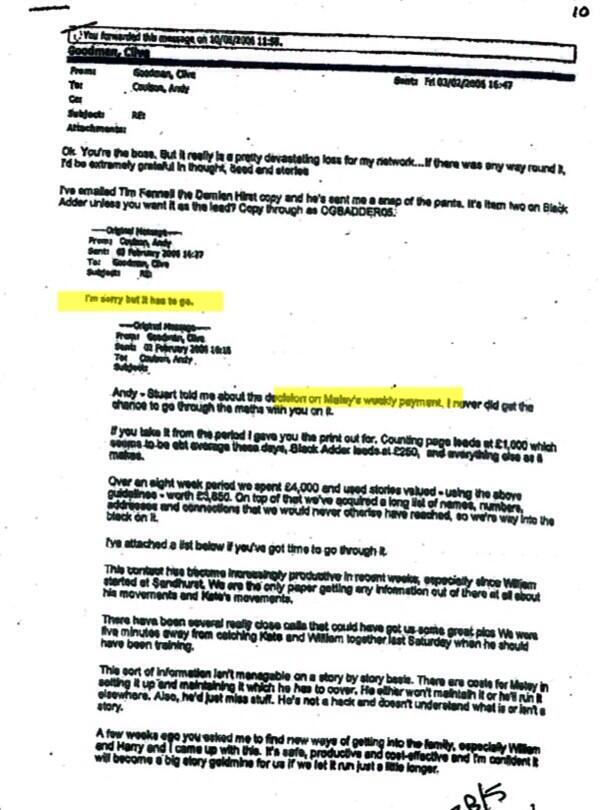 After the arrest of Goodman and Mulcaire  in August 2006, DCI Surtees briefed Rebekah Brooks at the RAC club in September about the hacking of her phone, and the progress of the investigation. A NI lawyer emailed a summary to Andy Coulson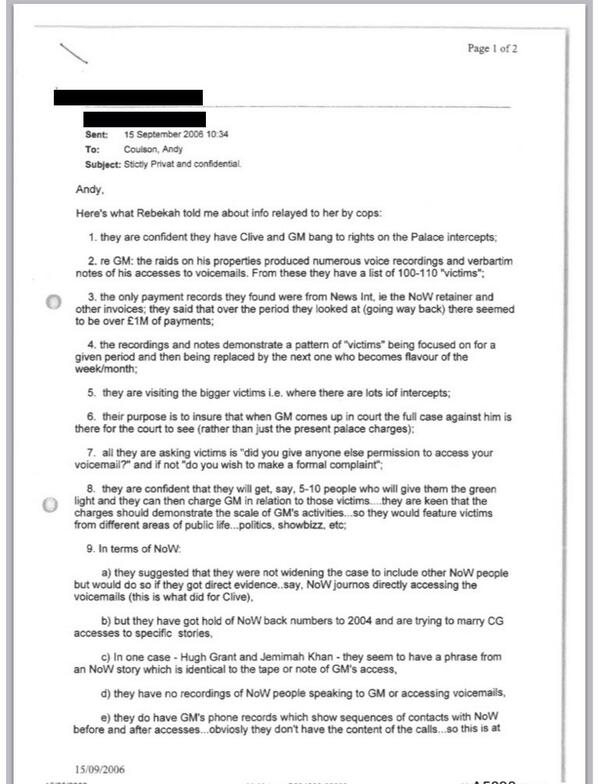 A few days before his guilty plea, a News International lawyer emails Coulson about his unhappiness being the fall guy for all Mulcaire's "other activities". (Henri is Henri Brandman – Goodman's solicitor)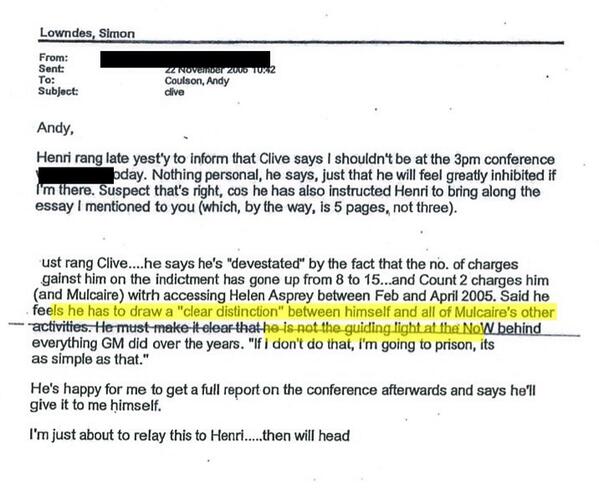 Around the sentencing of Goodman and Mulcaire in January 2007, Coulson prepared a draft statement on measures in place at NOTW to prevent further phone hacking. This phrase disappeared from the final draft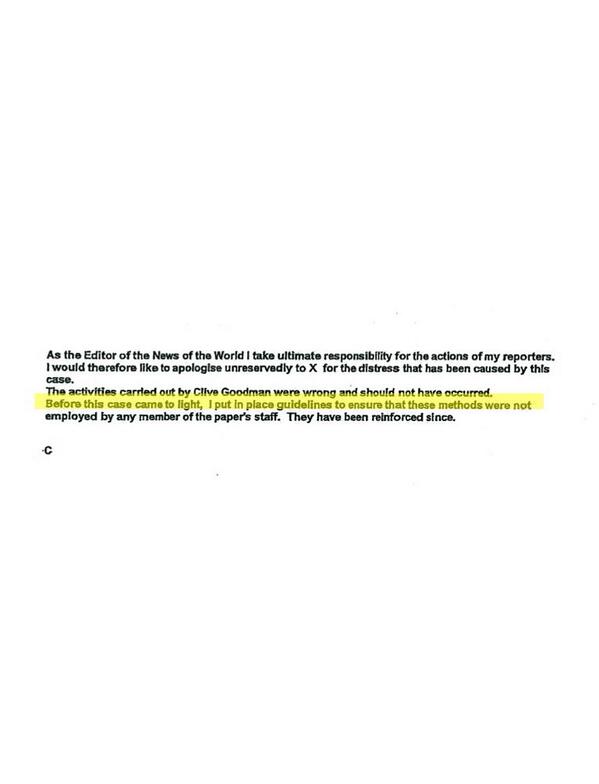 Coulson had received advice from an NI lawyer that the phrase might provoke a reaction from Clive Goodman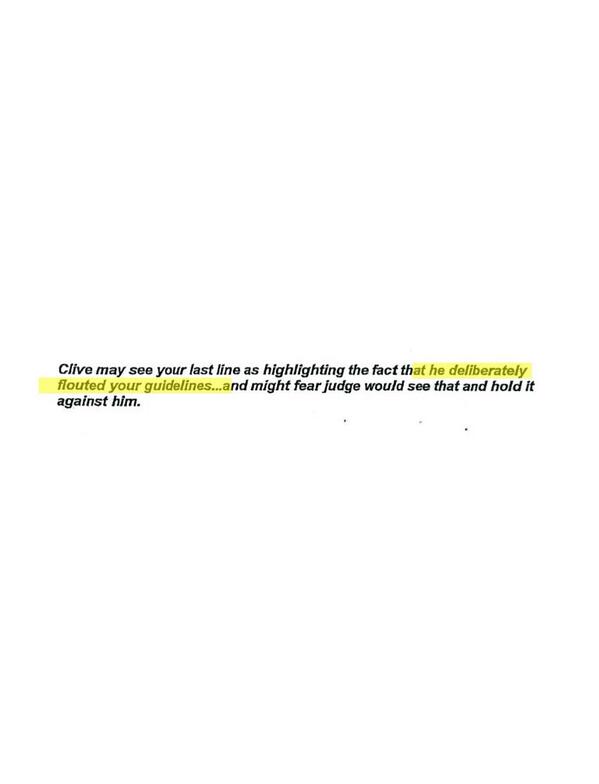 Another senior NOTW executive emails Coulson about Goodman being a potential threat and "throwing spanners in the works".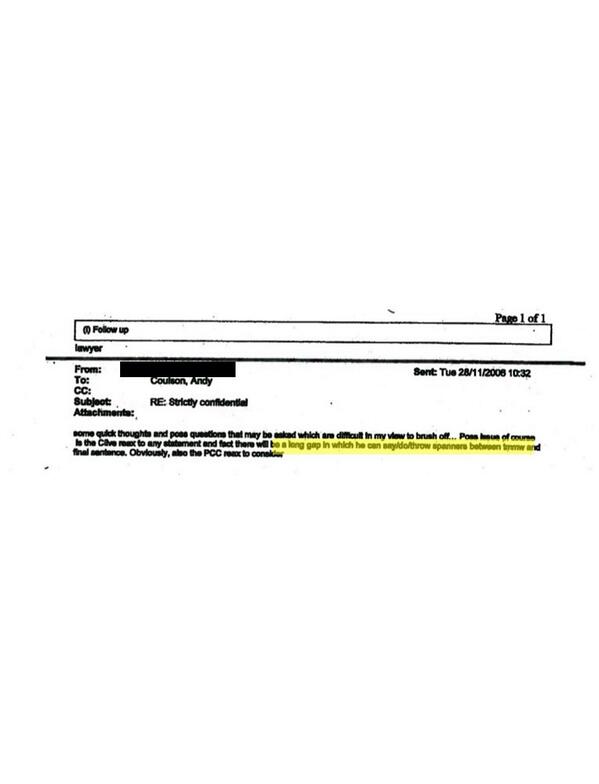 Andy Coulson resigned as editor of NOTW on the day Mulcaire and Goodman were sentenced in January 2007
Related articles