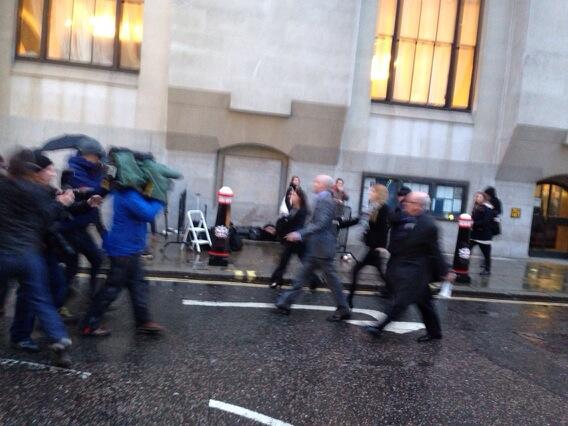 Me snapping the paps snapping Dan Evans.
A quick round up of my two colleagues reporting from the Old Bailey, Martin Hickman and James Doleman, from the opening of week 12 of the Hacking Trial, which turned out to be full of revelations as you can see from my twitter compilation for the day. 
Making a series of claims about a culture of tabloid newspapers, Evans said that:

–  Senior journalists on the Sunday Mirror told him his job was to hack phones.

–  The Sunday Mirror was landing so many exclusives from hacked voicemails it went through a "purple patch" in 2004.

–  Senior journalists on the NoW were aware of hacking and one asked him at a recruitment meeting: "I know you can screw phones, what else can you do?"

–  Evans told Andy Coulson he could find exclusive stories cheaply and "there wasn't a lot of doubt what we were talking about."

–  Although Evans believed he was going to help set up an investigations unit at the NoTW, a senior journalist sent him a list of celebrities and their phone numbers so that he could "hack any interesting names"

–  News of the World reporters could get "inquiry agents" to obtain phone numbers and phone bills, and received them "within three or four hours"

–  Confidential medical and tax data about individuals could also be acquired through blagging by others: "Pretty much every piece of private data."

–  Evans initially used "pay as you go phones" to hack into voicemails but abandoned the technique partly because of cost-cutting – when he got caught trying to access the voicemail of interior designer Kelly Hoppen.

–  Asked how often he would hack phones while at the News of the World, Evans said: "Probably most days. Might have been the odd lull here and there."

via I hacked phones "most days" says News of the World supergrass | Hacked Off.
Meanwhile James Doleman at the Drum hones in on the moment of recruitment by News of the World
Evans then told the court about further meetings with News of the World staff to discuss moving there. He testified that at these he specifically discussed the \"nuts and bolts\" of voicemail interception including what equipment he would need and his list of famous people and their voicemail \"PIN numbers\". He was then asked to meet then News of the World editor Andy Coulson to continue the discussion. They met for breakfast at a London hotel and they discussed Evans\' background and skills. He told Coulson he could get stories \"cheaply\" through the \"stuff with phones\" without the expense of an investigation. About 10 minutes after the end of the meeting he was told \"you have the job\". The witness confirmed that at no point did Coulson ask what he meant by the phrase \"stuff with phones\" and seemed to know what he meant. Evans then resigned from the Sunday Mirror and worked out his three months notice and joined the News of the World as a features writer on 5 January 2005.

via Phone-hacking trial: Journalist Dan Evans was offered job by Andy Coulson after phone-hack boast, he tells court | The Drum.
The BBC site also has more detail
'Taught to hack'

Evans said he told Mr Coulson at an informal job interview in a hotel how he could do \"stuff with phones\" to land cheap exclusives. \"Andy knew what the context of it was,\" he said.

One way to bring in exclusive stories cheaply was to listen to someone\'s voicemails and work out who they were having a relationship with, he said. That would \"shift units from supermarket shelves\", Evans said.

Press attention increased on Jude Law during his relationship with Sienna Miller

The jury heard Evans, who is appearing as a prosecution witness, had pleaded guilty to hacking at the Sunday Mirror between 2003 and 2005 and at the News of the World up to 2010. He also pleaded guilty to misconduct in a public office between 2005 and 2010.

Evans also confirmed he had admitted intending to pervert the course of justice.

via BBC News – Phone-hacking trial: Coulson 'told about hacking skills'.
Finally, my own piece from the Daily Beast about the Jude Law revelations
Law told the court that while he was in the U.S. filming Cold Mountain and Alfie, the phone numbers of his American agent and cell phones he had been given by the film studio appeared in the notebooks of a private investigator working for the News of the World. He said he was shown the list of numbers by police officers. "One of the numbers that appeared on the notes was an agent… and several other numbers I\'d been loaned,\" he told the court. \"They were able to follow me not just in this country but abroad as well."

British police, with no subpoena power in the U.S., have been unable to gather telephone records that would show who had accessed Law's voicemails. A potential investigation could leave News Corp, the parent company of the British papers, open to legal action in the U.S.  So far, only News International in London has been exposed to legal difficulties following allegations that Murdoch's British tabloid systematically hacked phones to gather information.

via Jude Law: I Was Phone-Hacked on U.S. Soil – The Daily Beast.
Meanwhile, for balance, the Times' front page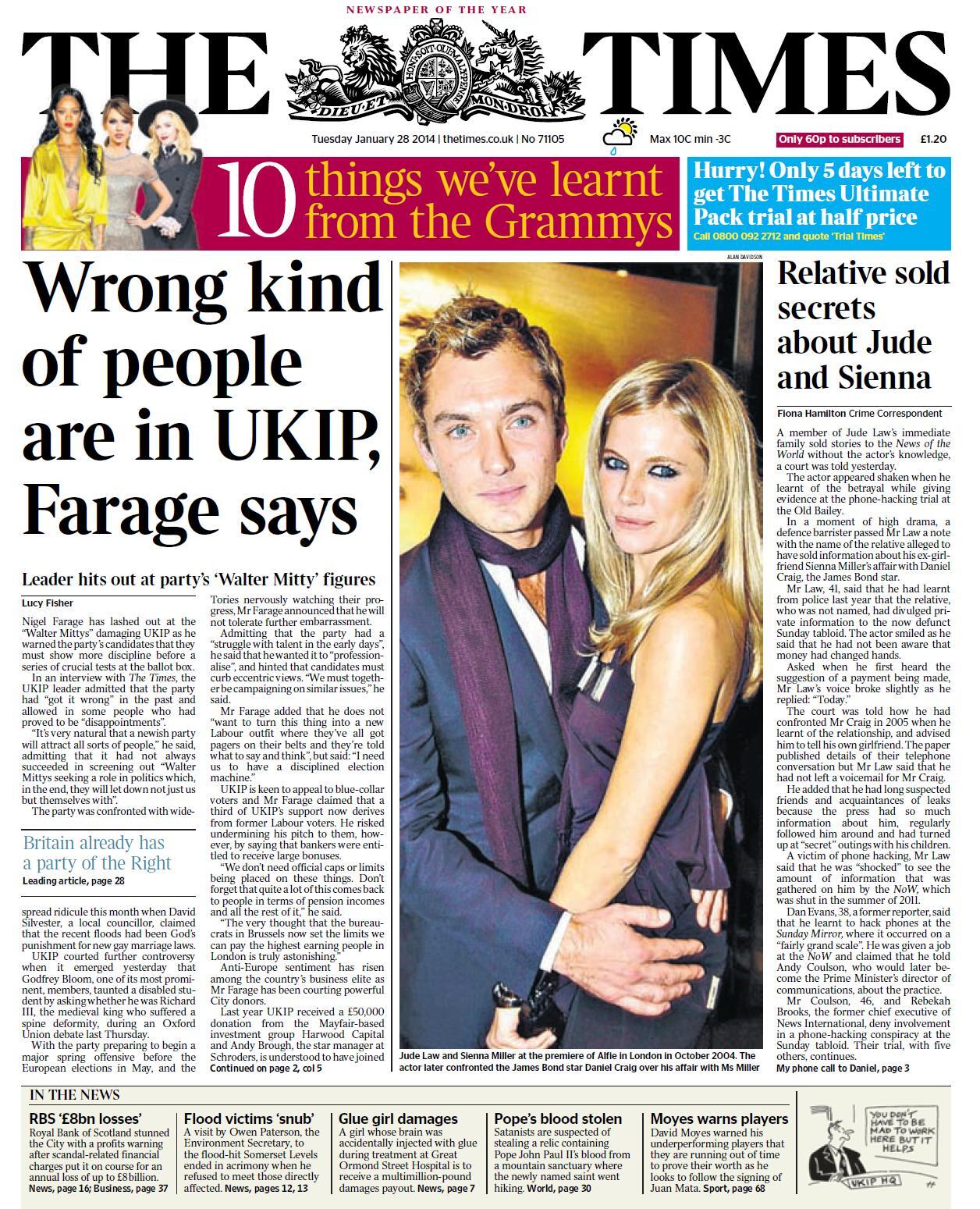 Related articles