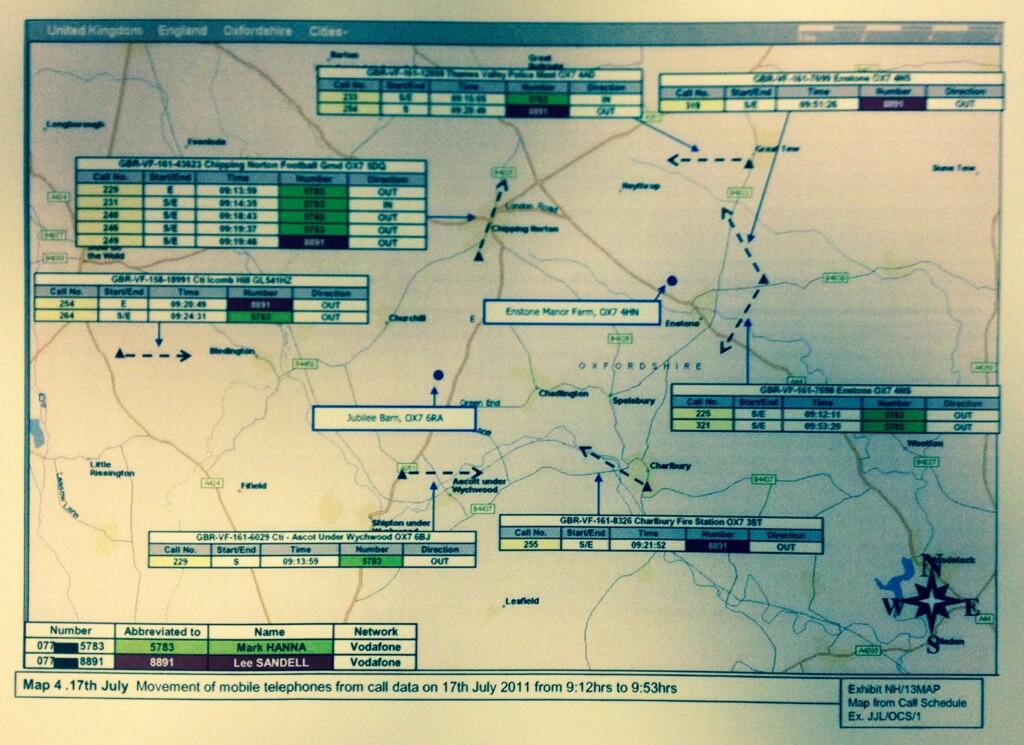 Excellent and pithy report from my Old Bailey colleague, Robin Brant, on the slip up by the cell site expert, David Cutts, who managed to get the timings of Mark Hanna and Lee Sandell's alleged proximity to the Brooks' residence at Jubilee Farm, on the day of her arrest, hopelessly mixed up. Cutts is an independent forensic expert, regularly employed by the police.
CPS also released the experts mapping of the masts in the area. (See my tweets for 15th January for more detail)
Mr Cutts, who works for the Metropolitan Police, is an expert in mobile phone cell site analysis – linking mobile phones to a specific location through details recorded by telecommunication companies\' at their transmission mast sites.

Cross examined by the Mr Hanna\'s lawyer, William Clegg QC, Mr Cutts admitted he had made three mistakes in testimony he had given about Mr Hanna\'s mobile.

He had mistakenly said the mobile was close to Mrs Brooks country home, Jubilee Barn in Oxfordshire, on two occasions when it was not.

He also told the jury that one call from the phone was \"not in the vicinity of Jubilee Farm\" when, in fact, it was.

At one point, when Mr Cutts was asked by Mr Clegg if he had made mistakes in his testimony, the judge intervened telling him, "Just say yes".

Mr Hanna\'s barrister described the mistakes as a \"fairly fundamental muddle\".

At the end of his evidence, the judge, Mr Justice Saunders addressed Mr Cutts, saying "you\'ve been given a hard time in the witness box today… you\'ve accepted making mistakes and they are serious ones".

The judge added: "You have failed to give a satisfactory explanation for the mistakes."
via BBC News – Phone-hacking trial: Prosecution expert admits mistakes.